Yulia and Alex feel the love of Piccotts End
May 9, 2022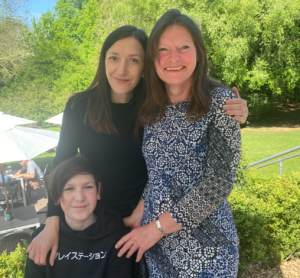 This month's spring coffee morning was more than a gathering of residents eager to get out and enjoy the sunshine.
It was an occasion when the village showed its true colours of kindness, generosity and a hitherto unseen talent for speaking Russian!
Among the many who came along to enjoy complimentary coffee courtesy of the Marchmont Arms were two VIP guests whose presence we can all be proud of.
Yulia Kuznetsova and her 12-year-old son Alex are refugees from war-torn Ukraine. They were at the coffee morning with their English host Melanie Mackney, who has taken them in at her Riverbank house as part of the country's refugee programme.
'When I read about what was happening in Ukraine I couldn't but do anything else' Melanie said as she introduced Yulia and Alex (pictured here on the left with Melanie) to the community. They fled the wrecked city of Mariupol, which has been the target of devastating Russian shelling and bombing, leaving behind other family members who were unable to make the journey.
They were immediately made to feel at home by two other villagers, Margaret Stanier of 110, and Ena Hartland of the Old Mill, who are both fluent Russian speakers!
'I am so grateful to Melanie and to everyone else who has made us so welcome,' said Yulia, who is planning to get Alex enrolled at a local school. She is an interior designer by profession and also a nail artist. She would be delighted to be of service in the village.