Watch out for Kiera, footballer, athlete, livewire!
July 24, 2014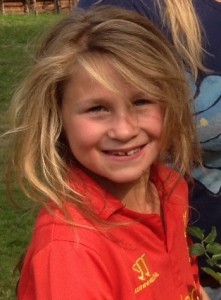 Sporting a Liverpool shirt young Kiera Ward certainly knows her football. When I chatted to the 8-year-old at this month's summer garden party I asked if she was disappointed that Luis Suarez had left the club. No, said Kiera, because I also support Barcelona. Enough said. Kiera, who comes from Leverstock Green, is the niece of Jayne Barber who hosted the party at her Blue Gate home with fiance Keith. Watching Kiera play football with all the skill and energy of a boy you couldn't help but be impressed. And with good reason. It turns out that she is captain of the St Albans City under-9s team and was last year voted their player of the year. If her mop of blonde hair and cheeky smile don't bedazzle you her mazy runs through defence soon will! I'm sure we'll be hearing a lot more about Kiera in the future.
This time last year I was sympathising with the pupils and parents of Gaddesden Row JMI school, which I drive past every day. They had to endure weeks of glorious July sunshine only for it to break up about the same time as they did. This year they're in luck. Another glorious July but this time it's lasted well beyond the end of term. The roads are a lot quieter when the schools are on holiday and I hope they're all having a great time.
The Hemel Old Town festival celebrating the street makeover was disappointing. It was a warm and sunny afternoon so where were the ice creams and cool and refreshing drinks? With empty stalls, a noisy and jarring band and a lack of food and drink, it wasn't so much a Festival as a Lestival.