Street champion Sue is on a mission to keep us clean!
April 7, 2022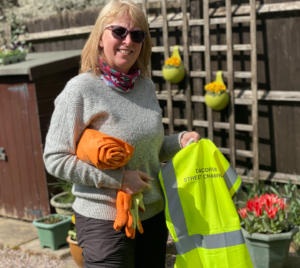 Our congratulations to Riverbank resident Sue Leach, who has become the village's first 'street champion.' Public spirited Sue, has signed up to Dacorum's 'keep our town tidy' campaign.
Equipped with a reach extender, hi-viz tabard, gloves and and an armful of litter bags courtesy of the council's scheme, she has already been out on her first pick around the village.
'Piccotts End is generally very tidy' she said, 'but the Leighton Buzzard road is so depressing. No sooner have you done on pick than it needs another. It's never ending.'
Anyone interested in joining Sue on the scheme can find further details here.
'As well as being able to put something back into the community, I have a couple of ideas that I would like to put forward to the council' added Sue, who is pictured here with their free litter picking kit. 'I hope that being on the scheme will give my ideas more traction.'
Dacorum have also issued a useful leaflet on how to report environmental problems. It can be downloaded here.