School's out for summer & the drive's a breeze!
August 23, 2017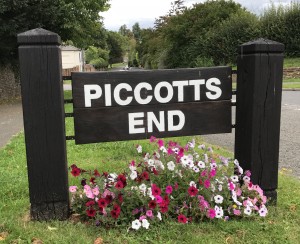 I'm savouring these last few weeks of the school holidays on our rural roads. August is a month when you don't have to stop every few minutes, squeeze up to the hedgerow and let a fellow traveller pass.  My pick of the sights on my way to work are often floral, for example the flowers under the signs at the Marchmont end of the village and at Mill Close. At the other end of the beauty spectrum is the Link Road roundabout, pictured above.  I'm sure that the wild flower plantation was created with the best intentions and for a week in late June it looked quite attractive. But for the past couple of months it has looked like what it is, a circular cemetery  of dead heads – very appropriate for a roundabout sponsored by a firm of funeral directors! It's time the council replaced them with grass and some spring bulbs. It will look a lot neater & you'll be able to see what's coming round the bend!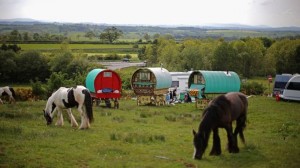 The most eye-catching sight I've seen all month was a recent Saturday when driving through Cheverells near Markyate. There on the side of the road was a real romany encampment of beautiful brown and white horses grazing the grass and an assortment of 'bow top' caravans. True, there were rather more 4x4s alongside them than you would have seen 50 years ago but it was still a sight to behold. I wish I'd had my camera with me. They had gone the next day and the opportunity missed. My photo here is from somewhere else but it gives a flavour of the scene.