Now the Old Town has more coffee shops than Seattle!
December 31, 2021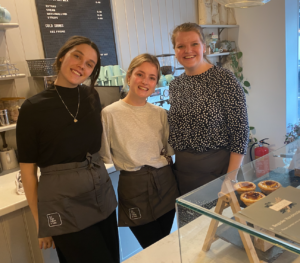 It's all change in the Old Town as the new year welcomes a flurry of new shops. From having just a few, there is now an abundance of coffee shops. There's The Hive at the bottom, the Tea Tree up the hill, Artichoke in the middle, to the newest, Old Town Coffee and Cake towards the top. This is a coffee central worthy of Seattle! I called by Coffee and Cake the other week and met Maisie, Emily & Fabia (in my picture). They have taken over the old fishing tackle shop and given it a modern vibe with freshly baked pastries in the mornings and delicious cakes in the afternoon. Good luck to them!
Elsewhere there are a couple of new eateries to add to the Old Town's long established Indian and Thai staples. Rack and Bone smoke house and grill, soon to open at No 31, will offer ribs, burgers and wings. Next up comes the newly opened Lebanese Grill Yalla Yalla which has replaced the old Med Grill. In case. like me, you wonder what Yalla Yalla means, a quick web search reveals it's an arabic expression meaning 'yeah right'. The next two frames of my lower photo show a soon to open open golf
shop called Proquip and what used to be a bridal wear shop at the very top end of the Old Town. This, so I'm told, will soon be, you guessed it, another coffee shop. You read it here first!