Mary calls time on 43 years in her historic farmhouse
August 14, 2015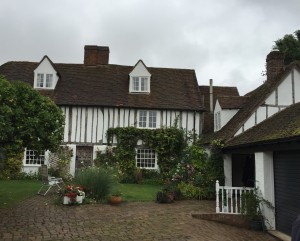 Alongside the medieval cottages Piccotts End Farm is the oldest habitation in the village, dating back to the 16th century. With its hand-painted warning 'Caution. Ducks crossing' at the entrance, it has a touch of the quaint to go with its character. Now, after more than 40 years the farmhouse is on the market. I called by to ask the owner, Mrs Mary Wiedman, about her time there. 'We moved from Chorleywood in 1972,' she told me. 'We had a mock Tudor house there and I always wanted live in a real one. I came out to Piccotts End with my sister and fell in love with the farm. But it was a shambles, there was mud from one end to the other.
'The owner was a colourful character. He had a son who was on the run for murder!
'My late husband Gerald did all the work on the house. It was completely gutted. He was an architectural designer so this was a real project for him. The house was advertised as 17th century Queen Anne but when we uncovered all the beams under the plaster we realised it dated back to Tudor times.
'When we moved here we already had three children, Howard, Daniel and Miriam. The two boys haved move away but Miriam still lives here with her family in one of the barn conversions.
"One of the first people we met was Arthur Lindley who lived next to the medieval cottage opposite. He ran the old Shell garage that used to be here. The was also the Bird family. There's only Vera left now and she lives in the bungalow at the end of Mill Close. She used to run a delicatessen in the new town. I think the only other resident who was here before me is Mrs Baird.
'Piccotts End was a very quiet place back then. You could stand in the middle of the road for ages chatting and never see a car. I loved it. There was the Mill just up the road. Before it burned down you could go up there and buy animal feeds, pesticides, potatoes, almost everything we needed for the farm.
'But we have had the odd moment of excitement. One was about 25 years ago when CID officers knocked on the door and asked to commandeer one of our bedrooms. They were watching a house opposite. When the owner came out one morning to drive his son to school, they followed him. He was later arrested for kidnapping a woman from Markyate and demanding a ransom. It was a big story at the time. She was only rescued when a milkman heard her shouting for help from a room where she was being held in the Old Town.
'Another event was the night the Mill burned down. There had been a spate of arson attacks in the area and one of our barns was set on fire around the same time. People were so kind. They came to help us move all the furniture.'
With a wealth of beams, sloping floors and the remains of wall paintings dating back to the 1500s Piccotts End Farm will soon be passing its history down to a new owner as Mary downsizes to one of her outhouses. She says she looks back happily on the house where her three children grew up. She is particularly pleased with what she did with her younger son Howard. Finding he wasn't getting on well at school in St Albans she took him out and found him a job at the old Hemel Market. 'That was the making of him,' she said. 'He had to be up at 3am every day, cycle down to Market Square and help prepare all the day's fruit and veg. He loved it.'