Last Christmas I gave you my Shard, but the very next day you gave it way!
December 23, 2014
Last Christmas I gave my son and his wife a voucher for lunch and a trip to the top of the Shard. There is always a sense of anticipation when opening a present and their faces lit up with delight at seeing the contents. It was more than halfway through the year and I asked if they'd enjoyed the experience. There was a pause. 'Well actually dad, we forgot to go and the voucher has expired.' This set me thinking about Christmas presents. It's all about the day. An inexpensive present is as warmly received as an expensive one. And with so many presents floating about most people have lost track anyway. I heard a woman on Radio 4 say that she imposed a £20 limit on all family Christmas presents. After my experience I think I'll follow suit.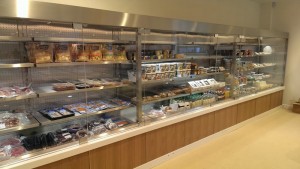 It's about 10 miles from Piccotts End but well worth the trip. Harpers, the fine food hall and cafe which used to be over at Studham, has relocated to the tiny hamlet of Pepperstock. It's up hill and down dale from here, via Markyate and Slip End. If you make the trip you'll find the old Half Moon Pub converted into a swish new food hall and cafe serving light lunches and a mouthwatering array of delicatessen goodies. There is plenty of free parking and don't forget to try the best sausage rolls you'll ever taste!
The more I see the Old Town Christmas lights the less I like them. As I've noted in previous blogs, these low energy lights are cold and very unfestive. The other problem is that there is a lack of warm reds and a preponderance of cold blues and greens.
Very sad to learn of the passing of Stanley Hartland this month. It was typical of Stanley that in retirement he was self-deprecating enough not to style himself Professor, a title he was entitled to use. He and his wife Ena were probably the most recognisable couple in Piccotts End and he will be missed by all of us.