I can't see Cliff getting a state funeral like this one for rocker Johnny!
January 20, 2018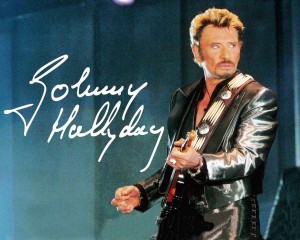 Oh dear! My blogs have fallen way behind. Again. Lives are so busy there is seldom time to write down what you're doing or thinking. One topic that occupied a day for me in the last few weeks was the death of the French pop star Johnny Hallyday. This only registered on my radar because I happened to be in Paris on the day of his funeral. My wife, being French, decided we should go to the Champs Elysées and watch the procession. This was an event on a Diana scale. Hundreds of thousands packed the pavements as pop stars and politicians including the President delivered their eulogies. Women cried in the street and hundreds of Hells Angels, of whom leather jacket Johnny was a devotee, roared ahead of the cortege. Johnny was often called the French Elvis. He was a genuine rocker, but in a language that meant he was little known outside France. It set me thinking that we don't have his like in this country. His nearest equivalent of that era, the 60s, would be Cliff Richard. But clean-living Cliff's a pussycat compared with the fast-living, hard-drinking, heavy-smoking Johnny (who died early on account of all three). There won't be such an outpouring of national grief for Cliff! The reason is, I think, because we have so many pop and rock stars here we don't get too emotional about any of them. France only had Johnny so he was unique. That's because, as he said himself, French is not a good language inwhich to sing rock and roll. It's beautiful for romantic ballads but too long-winded for snappy lyrics like 'I can't get no satisfaction' – Je ne peux pas obtenir de satisfaction!
Here in the backwaters of Piccotts End life goes on. We've had snow, high winds and heavy rain. But I noticed that snowdrops are already out and that means spring is on the way!