Is it the White Lion or the Red Lion?
July 1, 2013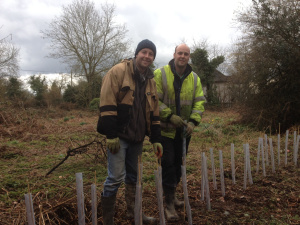 My journey to work through the leafy lanes of Gaddesden always provides some points of interest. Last month I spotted two men planting hundreds of saplings in the hedgerows. John and Nathan of JHP Services told me they had been contracted by the Gaddesden Estate to fill in the gaps in the hedgerows with some 4000 hawthorn, hazel, holly, dog rose and dogwood. It's part of a Government-subsidised scheme to revive a quintessential feature of the English countryside. Hedges serve many useful purposes, from acting as barriers to straying cattle to providing a nesting place for our bird population. At this time of the year they also fill the air with a heady perfume of honeysuckle and may. Fantastic!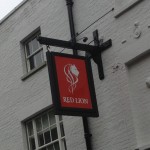 The former car showroom on the Leighton Buzzard Road has been taken over by Bushwood Antiques. That's a welcome change from a couple of years lying derelict. It may not last long though. Bushwood's staff tell me it's a temporary move and will end in September.
And so on to the Red Lion, or is it the White Lion? The scaffolding has been up this month while the building undergoes a makeover. When it is unveiled there is a dashing red lion on the wall. But what's the sign hanging on the front? Isn't that a White Lion?
Lastly we come to Useless Signs. The eyesore which has been erected on the Leighton Buzzard Road, bordering the back of the gardens of Mill Close, is a case in point. Several have appeared all round Hemel, probably at a cost of at least £25,000 each. To tell us what? The only offering I've seen so far is the dismally dull Don't Drink and Drive, which seemed even more pointless at 10am on a Saturday morning.
Other things that have caught my eye this month: cyclists, council ride-on mowers, horses and carts. If you see a long line of traffic you can be sure one of them's at the front!