House prices? No, today's hot topic is broadband speeds!
July 10, 2016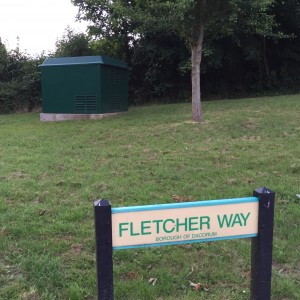 Dinner party talk used to be all about house prices. Not any more. If the chatter at the village garden party is anything to go by today we are more exercised by broadband speeds. At my end of the village we're the first house to get the signal from BT Infinity via the big green box at the bottom of Fletcher Way. We have download speeds of more than 30 mps which really is fast. The trouble is that by the time the signal reaches the rest of the village the speed is down to less than 10. This is because the fibre optic cable into the box makes way for the much slower copper into Piccotts End. A couple of years ago 10 was lightning quick! Actually it's still the standard speed for many offices but with all BT's hype we've come expect a lot more. My IT experts tell me that for downloading your average file or streaming music and film 10 is quite adequate. It's only if you are a serious online games player or downloading gigabyte files that 20 or 30 make it smoother and quicker. But the good news is that 100 will soon be here – and then we'll all be complaining that 30 is too slow!
Despite the occasional downpour the garden party was a great success, the high spot being the musical interlude performed by Tim and Julia Blinko, Jane McClelland and Toby Smith. You can watch the highlights here. Everyone agreed that Miriam Smith's picturesque paddock made a perfect setting for the event. Many thanks Miriam! And to her son Toby who showed us his young talent on the cello.
It was also a pleasure to meet some village newcomers, the Cross family, who have moved into Piccotts End Farm, next door to Miriam. Toby came with his younger son Hector while his wife Holly was staying with their elder son Rupert who is in hospital. I'm sure everyone will join me in sending Rupert our very best wishes.
I was pleased to see that the village heritage plaques are going up. First to be installed was the one for the old infirmary by the medieval cottages, then the one at the Marchmont. The Boars Head and Church House will follow shortly.