Damp and dark November, time for some gardening!
November 20, 2016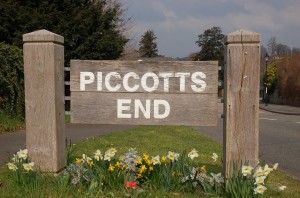 Sunday afternoons in late November are often damp, and dark by 4. Today is no exception, with a light drizzle to add to the general gloom. Gardening jobs need to be done in the morning, so I've been out planting up the Picccotts End village signs for some spring colour. Daffodils and pansies are the staple plantings for this time of the year and I'm hopeful they will make a splash in March. I'm not sure when or why I took on this job but, as a keen gardener, I've must have decided the signs needed some embellishment. The one by the Marchmont is easier to maintain because the grass is always kept cut by the council. Down at that far end it's a different story. The grass gets cuts less often, weeds and litter proliferate and the sign always looks a little unkempt. The signs themselves could also do with a spring clean. Paul Harrison, who lives at Riverbank, has kindly offered his DIY skills to brush them down and give them a lick of paint so they look good for next spring.
Alongside the signs I've also been busy extended the run of daffodils by the brick and flint wall in Piccotts End Road. Strictly speaking it's not my verge but I'm sure the council won't mind. The latest planting will take the run almost up to the Link Road roundabout. I'm looking forward to seeing them flower next year.
Talking of damp Novembers it was great to see so many families at the fireworks party. The day started pretty grimly but by the evening the skies had cleared and everyone was able to enjoy the pulled pork rolls, hot dogs and the fireworks. It was good to meet the new residents of Piccotts End House, Tony & Anna White and their family. Tony is a vet and Anna works for the RSPCA. A good match!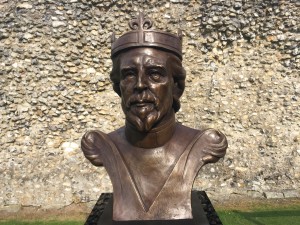 By contrast October was a glorious month, one of the driest and warmest on record. Friday the 14th was typical, perfect for the unveiling of a bronze bust I commissioned to commemorate Berkhamsted's role in the Norman Conquest 950 years ago. For it was here, after the Battle of Hastings, that William the Conqueror met the remaining nobility of London and accepted the English Crown. I decided, on a bit of whim, that this should be marked in some way. The idea of a bust of William came when I met a sculptor called Peter Walker, who is artist in residence at Lichfield Cathedral. There are no contemporary portraits of William so between us we researched as many descriptions and images as we could find. You can see the result here, which one reader of the Gazette likened to an elderly Richard Branson! The next step is to find a suitable location ion Berkhamsted where it can be seen by everyone.