Call for crossing over dangerous Leighton Buzzard Road
September 26, 2020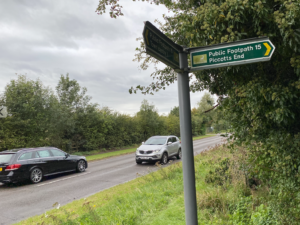 A Piccotts End resident is calling for a petition to demand a crossing over the Leighton Buzzard Road.
Michael Taylor, who lives at Riverbank, is asking villagers to join him with a petition after an unproductive meeting with ward councillor Ron Tindall.
Mr Taylor said he had complained about the issues of animals killed by traffic, drag racing, horn beeping and long waits to cross with a disregard to residents.
'I discussed the possibility of getting a crossing installed or at the riverbank footbridge over Leighton Buzzard Road or a reduction in speed' he said.  'But he told me that this would be difficult as I am the only person complaining.
'If the residents would like to see a change then we have to do it together.'