Now, how about we celebrate a thousand years of Piccotts End!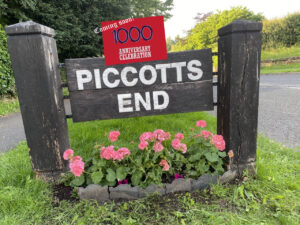 Last weekend's street party was such a success that many residents are saying 'let's have another one next year!' It's a lovely idea and judging by the popularity of the Coronation event, with nearly 100 villagers, families and friends in attendance, would be well supported. The trouble is, we've had a Jubilee and a Coronation in the space of a year, what's left to celebrate?
We can't win the World Cup until at least 2026, no resident is likely to fly to the moon anytime soon, and neither are we likely to stage the next Eurovision song contest. So let's do some creative thinking. Celebrations often revolve around big birthdays and anniversaries. There's an idea. We know Piccotts End is at least 500 years old because off the wall paintings in the Medieval Cottages, which date back to the turn of the 16th century. But the old mill house dates back much further, by almost another 500 years, as it was listed in the Domesday Book of 1086, Now we're getting somewhere.
Clearly the mill must have been existence for many years before its inclusion. There were 6000 water mills listed in the Domesday Book, many of them dating back even before the first millennium. How many we don't know, but let's speculate that the mill In Piccotts End could have been around for about 60 years. That would take us back to 1024/25. How convenient, then, that the next couple of years would mark a thousand years of Piccotts End! Not so fanciful, says our former secretary Michael Nidd. 'A Norman named Walter Pycot arrived here after the Conquest and almost certainly gave his name to the settlement around the mill when he was rewarded with land by William the Conqueror.'
So there's our next celebration. Coming soon, The Piccotts End Millennium!