Introducing Kelvin, the village 'vagabond'!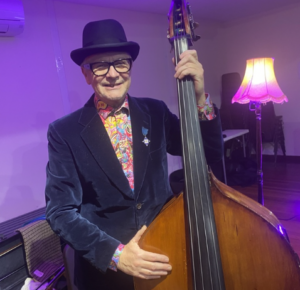 Piccotts End is teeming with musical talent, including Jane and Simon Lillystone on the classical front and contemporary composer Paul Borg. Alongside them I've discovered another musical maestro living below the village radar. You rarely find him at home so it was to the nearby village of Flaunden that I had to travel to track him down. Here I walked in on a sell-out concert at the village hall where they were clapping and cheering the gypsy vibe of a band with the unlikely sounding name of the Budapest Cafe Orchestra.
Standing in a psychedelic shirt, velvet jacket and black top hat, clasping a giant double bass was Kelvin Cantlon. Kelvin's musical pedigree dates right back to the 1960s when he played with the legendary Jimmy James and the Vagabonds. Today, 50 years on, Kelvin is still standing, but only because, unlike his bandmates, he can't play sitting down!
Outside of his life on the road giving concerts across the country and abroad, Kelvin says he enjoys the quiet life of Piccotts End. 'I've been here for 8 years and I love it' he told me after a typically energetic set with his fellow bandsmen.
The BCO, as they're affectionately known, play a wide spectrum of folk music, with a strong East European gypsy jive. Hence you'll hear the balalaika, guitar, accordion and Kelvin's rhythmic riffs. It was great fun stumbling upon such a fantastic band in a little village hall. But that's the way Kelvin says they like it. They can get intimate with the audience in a way that bigger venues won't allow. The BCO just love to entertain. Catch them if you can! Meanwhile here is a quick clip from their show.