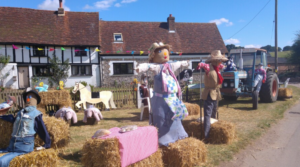 Last month's AGM sparked a wave of ideas to celebrate a return to the good life this summer. With lockdown restrictions due to end in June, residents attending the zoom meeting discussed a range of social event suggestions together with issues like the Dacorum development plan, broadband and traffic speeds.
An exciting season of social events is on the cards, including some novel ideas like a harvest festival and a scarecrow festival.
PERA's social secretary, Annette Harrison, confirmed the following dates for our annual events.
Saturday July 10th, Summer Garden Party
Saturday September 25th, Safari Supper
Saturday November 13th, Fireworks Party
Further details of these will be available soon.
New events

Harvest Festival. PERA's treasurer Susie Hust put forward a suggestion to stage a harvest festival in the autumn at which villagers would be invited to exhibit their fruit and veg crops, their cookery skills and even their beer! The exact format will be decided at a later date, depending how many people are willing to take part. Suggested date: Saturday October 9th.
Scarecrow Festival. As seen in other villages like Flamstead. This is another idea from Susie to get everyone involved in a bit of fun. It may also have the added benefit of slowing traffic. Suggested dates: Sunday September 26th – Saturday October 9th
Other AGM topics
Dacorum development plan – Tony White of Piccotts End House has kindly volunteered to look into how the residents association could join forces with others similarly affected in opposing the development of our Green Belt amenities.
Speeding traffic – PERA's secretary, Michael Nidd, was tasked with seeing if the village can acquire at minimum cost an LED speed-activated sign warning motorists they are exceeding the 30mph limit. Residents agreed these devices do act as a deterrent.
Litter – it was suggested that residents organise a litter pick day once or twice a year to keep the village looking tidy.
Bulb planting – a further suggestion was to cost up planting verges with daffodils to go with the very attractive display alongside the wall leading to the old Boars Head.
Broadband – PERA 's chairman, David Stanier, praised Riverbank resident John McDermott for leading a campaign to bring high speed broadband to the village. If you would like to know more, please John – his address is john.mcdermott@outlook.com
A questionnaire has been emailed to all residents on PERA's opted-in address list to gauge interest in supporting these initiatives. A report will be published here on the web site later in April.