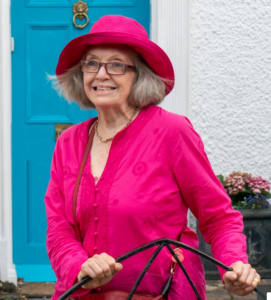 Judy Wade, village veteran and HELLO!'s royal correspondent for 27 years, has died at the age of 81 after a short illness.
A trailblazing woman journalist, she reported on royal births, deaths and marriages and crossed the globe on royal tours until her retirement in 2015.
Known for her colourful outfits and larger than life presence, she arrived from her native Australia in 1971 and moved to Piccotts End shortly afterwards.
She spent 17 years at The Sun before joining HELLO! for its launch in 1988. During her long career she covered the weddings of two future kings, Prince Charles to Lady Diana Spencer, and Prince William to Kate Middleton.
As an author as well as a journalist Judy wrote some of the defining books on the late Princess Diana, including Diana, Portrait of a Princess and Charles and Diana: Inside a Royal Marriage.
Perhaps her most memorable moment was in 2013 when William and Kate invited her to cradle their son and future king, Prince George, shortly after his birth. She is survived by her daughter Jordan and two grandchildren.
Her close friend and neighbour Val Corbett paid this tribute:
Judy lived at No 95 for over 40 years. When she went back to work after maternity leave  I took care of her daughter Jordan and she and Polly, my daughter, became great friends and are BF's till this day.  Alas Judy developed dementia a few years ago and when it worsened, she left Piccotts End to become a resident in a care home near her daughter in North London.  I went to lunch with her several times  during this time and noted with sadness how her memory declined.
Judy was the Royal Correspondent for The Sun and then for Hello magazine. The morning after Princess Diana died, I knew she would be overwhelmed so knocked on her door and found Judy looking frazzled. Each time she put the phone down, it rang again.  Every media station and newspaper in the world, it seemed, wanted her on their programme or needed to interview her. I was determined that she would, for once, be commercial. While she furiously tapped out articles on her laptop, I took care of the calls and when she nodded, negotiated a fee and time for a TV appearance or an article. We worked like a team and in addition to a workable schedule, she got a goodly sum for which she was grateful.  When it was no longer headlines – a LONG time after – she told me she slept for 12 hours!
I once asked her how she could write about the same family for over 31 years – didn't she get jaded?  "Never," she said.  "I see at close range what they do on their public duties  – and most do it superbly even though you and I would be so bored." She felt it was her responsibility to be the conduit between the Royals and their public. And she prided herself on being ahead of the press pack – she spotted Diana's importance early on, ditto Kate and she had a close relationship with Sarah the Duchess of York and her two daughters. Judy was justifiably proud that she was in St Paul's Cathedral for Charles and Diana's wedding and – as an invited guest – in Westminster Abbey for Prince William's. It seems a fitting epitaph.