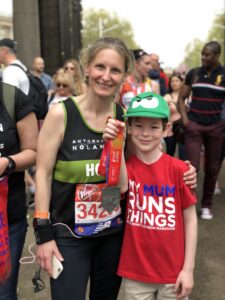 Three cheers for Piccotts End resident Holly Cross! Holly ran this year's London Marathon to raise money for Anthony Nolan, the charity which helped save the life of her son Rupert (pictured here with his mum after the big race).
Despite the heat Holly, who lives at Piccotts End Farm, completed the 26 miles in the very respectable time of 5 hours 46 minutes.
Her fundraising quest currently stands at £7,865.47 – well on the way to her £10,000 target – and was spurred on hugely by an article in the London Evening Standard. https://www.google.co.uk/amp/s/www.standard.co.uk/news/london/mother-to-take-on-london-marathon-to-thank-donor-who-saved-her-son-s-life-a3818016.html
She decided to run the race as a thank you to the charity after Rupert underwent a successful bone marrow transplant.
Holly takes up the story…'Back in 2016, following an unrelated blood test Rupert was diagnosed with Myelodysplasia – a life-threatening deterioration of his immune system.
'Within 2 months he was in isolation at Great Ormond Street Hospital and underwent a bone marrow transplant. He ended up being in isolation for 88 days. However, there were some good times and he got to interview the space scientist Tim Peake (pictured below).
'18 months later Rupert is back at school, doing amazingly well and on little medication. All this is mainly due to one, incredible, anonymous, bone marrow donor who gave my son his life back. This amazing donor was found through Anthony Nolan and that's why I want to run for them and raise funds and awareness for the amazing work that they do.'
If you'd like to make a donation to Holly's worthy cause you can do so at https://www.justgiving.com/fundraising/Run4Rupert